Saving Sweet Briar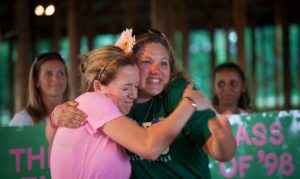 On March 3, 2015, Sweet Briar College announced it would close, effective the summer of 2015, taking nearly everyone by surprise. After a phone call with the then-president, alumnae from around the country and world joined a Facebook group to pool our collective talents to try to save the school.
Brooke joined the marketing and PR group that evening, engaging in multiple conversations about what could be done. Having built and launched several websites as a part of her own web marketing business, Brooke offered to build a website. The site launched around 1 a.m. mountain time. By morning, it had been mentioned in the Washington Post.
Brooke also helped launch a Facebook page that would become a hub of the movement. Within hours, alumnae started to collect pledges. The school said they needed $20 million by June. We'd sure as hell give it a try! With no fundraising experience – and with a lot of passion, Photoshop, and crowdfunding knowledge – Brooke led the online effort to bring in millions in donations, including a Latte Challenge and memes around cows that helped raise considerable dollars.
In June 2015, a little more than three months after the closure announcement, Saving Sweet Briar, Inc., the board formed to save the school, announced that a settlement agreement had been reached to keep the school open. A new board was sworn in on July 2, 2015, and Saving Sweet Briar delivered the promised $12 million in cash by September 1.