About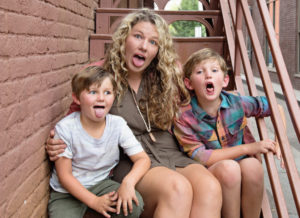 Brooke Linville is a writer, story-teller, entrepreneur, and single mom in Boise, Idaho.
In 2015, Brooke helped lead the effort to Save Sweet Briar after it announced it would be closing. She built the savingsweetbriar.com website and ran the online Facebook campaign that raised over $12 million in sixty days. She was the youngest board member of Saving Sweet Briar, Inc. Brooke's inspirational Tedx talk on What Raising $12 Million Taught Me was given May 5, in Boise, Idaho.
In 2016, the Idaho Business Review named Brooke as one of their Women of the Year. She was also named as one of Sweet Briar College's Distinguished Alumnae in that same year.
As an entrepreneur, Brooke led a virtual reality startup to TechCrunch's Disrupt to Innovation Awards at the Consumer Electronics Show and to Samsung, Disney, and Google. She continues to be involved in digital strategy and technology, particularly interested in the areas where tech and education intersect. She also has a personal interest in advocating for women's issues and domestic violence survivors.
Raising $12 million didn't just teach me about fundraising – though it did do that. Raising $12 million taught me how to value myself.
Brooke's true stories have appeared on-stage as a part of Boise's Story, Story Night. She was invited to participate in their Slammer of the Year competition in the fall of 2017.
Brooke is currently working on a book that expands on her Tedx talk. She is published in Chicken Soup for the Soul, Entropy, Women's eNews, and other local publications.
Brooke spends what little free time she has doing crossword puzzles, binge watching Netflix, and trying to cook the perfect ribeye.